As part of Winter Wander, we've put together an art trail to showcase a series of works by local artists inside some wonderful local shops in and around Cashel Mall!
Share your art trail adventure and be in to win prizes from participating businesses. Simply take a photo of the work, tag the shop and use #winterwanderchch and you get an entry into the draw to win! There are a bunch of artists and ten locations; so plenty of chances to enter.
The art trail is viewable during host shops' opening hours.
All photos by Janneth Gil
The Crossing & High Street
Tatyanna Meharry - D(OHHH!)nuts - at Ruby
Mmmm those D(OHHH!)nuts look good! All of the fun with none of the caloric yum.
Sometimes Tatyanna Meharry jokes about art objects that you encounter that you just want to lick to be reminded that one must not lick the artwork! These are part of a collection of food that explores the fun of nostalgic fun food.
Meharry is a ceramicist who currently works in her studio in Christchurch called STUDIO380. She creates items that evoke feelings of nostalgia and are reminiscent of locations. Her work is found in galleries and stores throughout New Zealand. Tatyanna teaches ceramics through Risingholme adult education as short courses and practical workshop papers for the national Diploma of Ceramic Art, long distance for Otago Polytechnic.
Instagram | Facebook |  Website
Matt Akehurst - Object 5 - at Coffee Culture
Matt Akehurst graduated in 2010 with a Bachelor of Fine Arts (hons) from the University of Canterbury. He works in a range of mediums, letting his concepts dictate the most appropriate format.
This work engages with notions of amorphality and transience. Matt says: "Blobs, much like the art world, defy definition. They are constantly evolving amorphous creatures adapting to their surroundings, relentlessly trying to find their own niche. Object 5 is a result of its 4 predecessors."
Instagram | Facebook | Website
Janna van Hasselt - Full Spectrum - at H&M
Janna van Hasselt's work celebrates playfulness, theatricalization, exaggeration and exuberance. It constantly shifts between two and three dimensions and different scales. Pieces are in a dynamic and ever evolving dialogue; each piece informing the next with relationships evident between form, surface and material. By spending time with her work, Janna's aim is for the viewer to slowly uncover the coherent balance of explanations and punch lines.
Janna completed her Bachelor of Fine Arts in Printmaking at Ilam School of Fine Arts in 2004. A Fulbright Award lured her to Chicago in 2012, where she discovered the chromatically intense work of US artists Judy Ledgerwood and Polly Apfelbaum. Janna received a Master of Fine Arts from the School of the Art Institute of Chicago in 2014, specialising in ceramic sculpture. She won the 2014 Waiheke Art Award and received an honorable mention in the 2016 Portage Ceramic Awards.
Paul Dibble - Sleepwalker - at The Crossing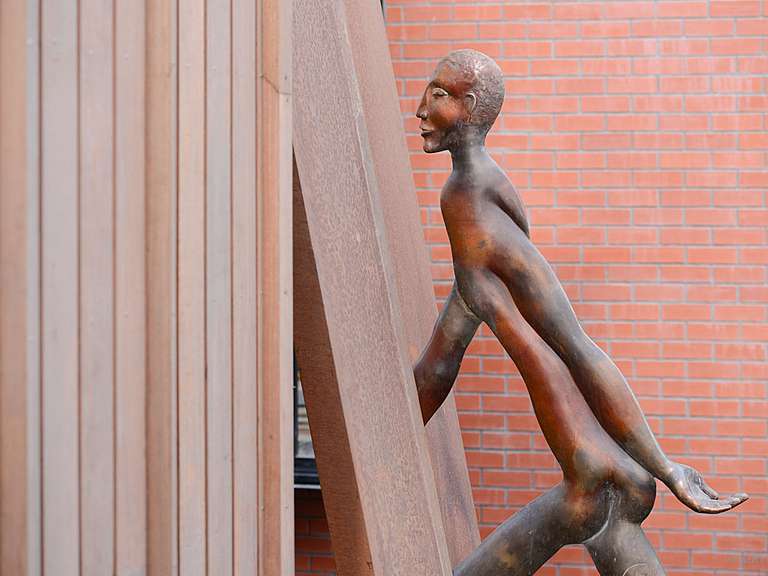 Paul Dibble's Sleepwalker is held in the collection of Philip Carter, a local property developer and art aficionado.
Carter's home was severely damaged in the 2011 quakes, collapsing down a 100m cliff, along with Sleepwalker. Carter managed to stop thieves from cutting the sculpture up and has rescued and repaired it, where it now is proudly cantilevered over Kettlewell Lane. Carter says its a symbol of the City coming through a disaster and being much stronger for it.
Paul Petch - connection_ - at Infinite Definite
connection_ is an ongoing series of double exposed images captured on a 1960's Yashica 635 film camera that explore the connection between ourselves and the natural environment. These images were captured on location in Christchurch.
Paul Petch is a commercial & fine art photographer, filmmaker, tutor & family man. His work emphasises the human form & condition through our environment, technology & the system we thrive in. Paul is mostly focussed on exploring narratives surrounding consumer culture, capitalist post-modern society & popular culture.
Paul is currently studying at Ilam School of Fine Arts, exhibiting works, & accepting clients within the arts offering photography, videography, & mentoring.
Emma Turner - Don't Bug Me - at Head Over Heels
Tuck yourself away, under your dome, a quiet space. Take a moment to make sense of it all, those familiar icky feelings that are persistent and often hard to articulate. It can be unsettling and challenging out there... don't let the bugs get you!
Emma Turner is a ceramic artist based in Christchurch. She is currently studying towards a Diploma in Art and Design, at the Dunedin School of Art. She is interested in naïve and playful forms, and in the stories we project onto them. How our own experiences help us to interpret our surroundings. Emma produces a mixture of functional and non-functional wares and often likes to incorporate other mediums into the work such as cloth, metal and found materials.
The BNZ Centre
Tim McLaughlin - Lover's Knot and Composite Kiss - at HAPA
Tim McLaughlin is a Christchurch-based artist who completed a BFA in sculpture from the University of Canterbury in 2016. Through his practice, he experiments with objects and materials which mimic the feelings of bodily sensations and play off the desire to touch. His works utilise movements between textures – soft and hard, glossy and matte – to draw on the colours and textures of natural and physical source material.
Hamish Allan - Splash - at HAPA
Hamish Allan has been a full-time Christchurch artist since 2000. Allan worked at the Arts Centre for 5 years, during which time he transitioned from creating sculptures to paintings.
Hamish's style is characterised by clean precise imagery, depicting stylised representational New Zealand landscapes and incorporating distinctive architecture. His interest in the relationship between the landscape and human intervention is often present, and he endeavours to portray this in a contemporary manner. He is fond of looking through rose-tinted glasses at times gone by.
Hamish's work has a feeling of space and a sense of the serene created by leaving out unnecessary imagery, creating a stripped back essential image. Taking time to render a seamless drift of tone and a conscious pushing and pulling of perspective provides an intriguing and rewarding visual experience.
Instagram | Facebook | Website
Ed Lust - Fe, Brism, and Eclipse Brick - at Scorpio Books
Ed Lust is a Christchurch based artist who works in a variety of mediums. Ed completed his Masters at the University of Canterbury School of Fine Arts, and has collaborated and exhibited throughout New Zealand.
Often playful and at times intense, his works share a love of colour, refined forms, and repetition. As an artist who has worked in film, Ed's passion for shifting scales and aesthetic complexities is present in his work across mediums.
From a review of a recent exhibition: "The works are dynamic, colourful and engaging. I felt tugged along the walls by protons and neutrons, one-step two-step dance diagrams encouraging further explorations of petri dish stills or planetary transits. Comb-tooth fine lines and orbs bled into each other, constellations choreographed the eye masterfully across the paper and a sense of shifting, swimming focus had me taking pause to appreciate the snippets framed by peepholes on each freckled page."
Martin Sagadin - Hair #1, Cloud Study #3, Golden Bridge, and Fiona Series - at Scorpio Books
Martin Sagadin is a Slovenian Born, Christchurch based genderqueer filmmaker and artist. In 2018 he finished a Masters in Fine Arts - with a focus on directing and writing at the University of Canterbury and has also been teaching there. His diary film Oko Na Roki was selected in the 2018 New Zealand International Film Festival and his film Spring Interlude is set to premiere at this year's NZIFF. His paintings have been shown in galleries nationwide and are usually personal and introspective studies in abstraction.
Audrey Baldwin - Annabell, Geoffrey, Madeleine, and Robert - at Cosmic
Audrey Baldwin is an artist based in Aotearoa New Zealand. Her practice incorporates performance, video, photography, and curation. She operates both inside and outside of the traditional gallery space, with an interest in creating shared experiences where the viewer becomes an active part of the work.
Her performances often centre around the body and use absurdity, ritual and aspects of the every day to raise questions about established values and notions about the body, power and gender. Her work is earnest and emotional, confronting and grotesque, and sometimes all of these things at once.
As an accompaniment to her more conceptually based works, Baldwin enjoys creating collages that are playful and surreal. Her approach to collage is one of restraint and simplicity.
These cat collages create hybrid creatures with a few simple cuts and rearrangements. Kitty crustaceans purr, preen and pounce.
Audrey has been performing and creating public interventions and events in and around the central city of Ōtautahi/Christchurch since 2010. Her practice has been part of the recovery and rejuvenation of the city, which is still recovering from the earthquakes that destroyed it in 2011. Her work has been presented in galleries and festivals around New Zealand as well as in Zimbabwe, Japan and India. 2018 saw her attend Morni Hills Performance Art Biennial in India alongside other performance artists from around the globe.
The Guthrey Centre
Hannah Louise Heslop - Golden Hour, The Cool Night Air is Curious, Barbie Vom, and Uninvited - at The General Store
A galaxy of hoops represent whimsical portals into the innermost workings of the artists mind; rich with sequins and beading often spilling from the confines of their frame.
Theatrically rich embroideries have become the artist trademark, representing hours of meditative stitching, needlework and meticulous beading. Visually and textually satisfying, the dreamlike surfaces blend together elegant with kitsch; iridescent with matte, and glamour with culturally prescribed femininity.
Empowered by techniques of traditional feminine handicraft and the laborious nature of needlework, there is an underlying defiance to a society that has created vulgarity and shame around celebrating the body and ideals of beauty through depictions of sexual anatomy.
Hannah describes the discipline and patient act of stitching as a means to constrain a chaotic mind and a continuous exploration of her own relationship with the body.
Hannah Louise (b. 1993, Christchurch) is a practicing artist in Christchurch, NZ. She holds a Bachelor of Design (Fashion) 2013, from the University of Otago. Hannah's Dreamscapes have been exhibited at Absolution, First Thursdays, Matchbox Studios, and at 'The Lost and Found Market' at the Christchurch Arts Centre. She has worked on costuming commissions for independent film projects and her work is included in private collections across New Zealand, Australia, USA, UK and Canada.
---